Welcome to Bedlington-Online.com
I am currently working on a new version of this website.
In the future I would like to collect and publish the following informations on here:
general information about this great breed,
Dogshows including results and images,
a list of all breeders from all over the world,
litter announcements and puppy mediations
an extensive list of stud dogs and
some more.
I hope that many Bedlington friends will visit this Website and lots of Informations will come together. You will be informed about the progress of the development of this website here, on Facebook and Instagram.
Be curious!
Yours, Nina Bläser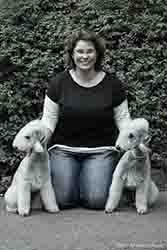 Breeder of Bedlington Terriers at Kennel "Arc-en-ciel" in Germany